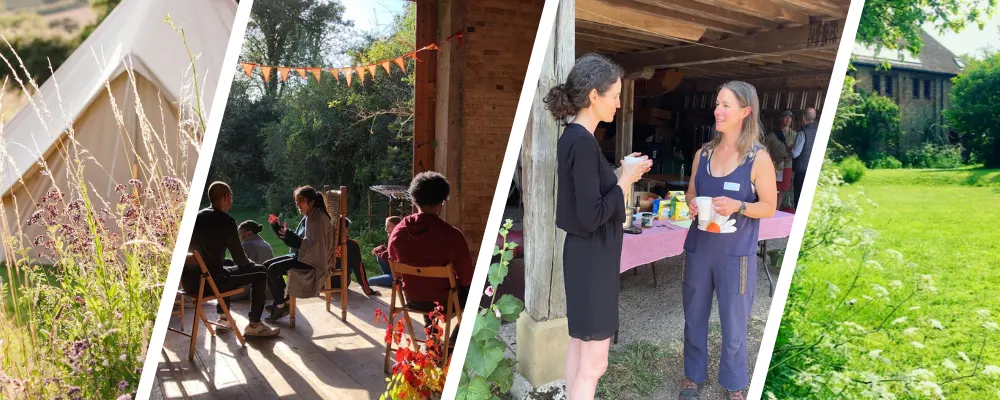 Friday:
18.00: Arrival and Welcome
19.30 – 20.30: Dinner
---
Saturday:
8.00 – 9.30: Breakfast
9.00 – 10.00: Registration
10.00 -10.30: Welcome and Introduction to the Event
10.30 – 11.45: Keynote Presentation One
Esther Stanford-Xosei: Repairing & Regenerating Cultures: The Glocal Impetus for Planet Repairs. Esther will explore the role of cultural repairs in the self-repair of Peoples and Planet in order to achieve global justice.
11.45 – 12.15: Tea/Coffee
12.15 – 13.30: Keynote Presentation Two
Agamemnon Otero, MBE: A Business Case for Love. A story of Energy Garden, a Community Energy Cooperative supporting regenerative farming and rewilding.
13.30 – 14.45: Lunch
14.45 – 15.05: Kirstie Simson and Patrick Cassidy: Introduction to the Embodied Workshop. A taster of what to expect on the Sunday morning session with Kirstie Simson and Patrick Cassidy.
15.15 – 16.45: Workshop Sessions One
Aesha Francis and Dean Francis: Rethinking, Reframing and Reimagining Inclusive Cultures. Together we will explore an intercultural approach to social mindfulness.
Andy Falconer: Integration on the Margins. Building on learnings from cultural rewilding in central Middlesbrough, join us as we explore the new worlds growing through the cracks of the old one.
Somin Griffin-Dave: Sonic Landscapes of Colour. Utilising extracts from an audio documentary on what it's like to grow up as a person of colour in SW England, this workshop will allow participants to reflect on and explore topics such as culture, community, identity harm, and resilience building.
Susie Talbot: Exploring Rights of Nature in Practice. This workshop, through guided meditation and shared dialogue, explores ways in which we might start to connect with and speak Nature's voices into our decision-making and dispute resolution spaces.
Fran Vandelli: Fruitful Malmesbury: Complexity and Community Change. Fran will explore the evolution of a project that influences change and is also being changed by a complex system. Be ready to try some drawing!
16.45 – 17.00: Tea/Coffee
17.00 – 18.30: Workshop Sessions Two
Sandhya Dave: The Catalysts. Moving towards whole school cultural change: tackling racism, exploring truthful histories, and challenging extremist thinking in the school environment through loving kindness, body awareness, and ritual.
Serayna Keya Solanki: Can our Collective Memories and Stories disorient emerging Dystopian Futures? Our collective fruits and roots hold memories and stories full of knowledge, a talisman for time. Acknowledging the future is here today, how can our stories and memories disorient emerging dystopian futures, such as a future of planetary scale engineered climates and controlled oceans?
Abbey Ancoma & Allison Philbert: Engaging Communities for a Brighter, More Cohesive and Empowering Future. This workshop explores the driving forces behind change and how Sister System nurtures brilliance in young women and girls.
Ivo Mensch: Change – Doing it or Letting it Happen? In this session Ivo takes participants on a tour of what keeps us stuck in our ways and how we can enter into a flow of unfoldment. Prepare for plenty of practice and learning from each other.
Simon Town: Grant Application Masterclass: Presenting your Best Self. Sharpen your skills on how to best to present your scheme to funders. Recognise common errors and discover the secrets of how Simon, with 34 years of experience, has delivered millions of pounds for beneficiaries via applications he's written. Bring your questions!
18.30 – 19.15: Closure circle
19.15 – 22.00: Celebration Dinner
---
Sunday:
7.30 – 8.30: Qi Gong, meditation, yoga, swim, walk
8.30 – 9.30: Breakfast
10.00 – 12.00: Workshop Session
Kirstie Simson and Patrick Cassidy: Transforming Through the Intelligence of the Body. Kirstie Simson (Dance) & Patrick Cassidy (Aikido) will guide participants through the rare opportunity to experience and glean insights into the body, as a powerful channel for the development of connected consciousness, and clarity of being.
12.00 – 12:30: Tea/Coffee
12.30 – 13.00: Closing circle
13.00 – 14.00: Lunch
15.00: Depart
---